We take pride in selling top of the range swimming pool packages at the most affordable prices. Our pool shells are manufactured in Australia at dedicated manufacturing complexes with over 40 yrs of manufacturing experience and a great reputation in the industry.
Our mission is to provide THE BIGGEST RANGE of PREMIUM SWIMMING POOLS with top of the range equipment across all major regions of Australia. Our Swimming Pool Package includes fibreglass pool shell, Engineering drawings, Pool pump, filter & chlorinator. Our customers also enjoy flexibility of choosing their own equipment and buying only Swimming pool shells from us. We happily adjust our prices accordingly.
Largest Variety of Vibrant Colors
We offer the biggest range of high-quality pool designs with THE LARGEST VARIETY of COLORS to choose from. Deciding on the color of your pool is one of the most exciting decisions you will make. Choose from our vibrant, modern colors to transform an ordinary into the amazing.
Our Deluxe Pool Shell comes with 2 choices of colors – Lagoon Blue and Sapphire Blue.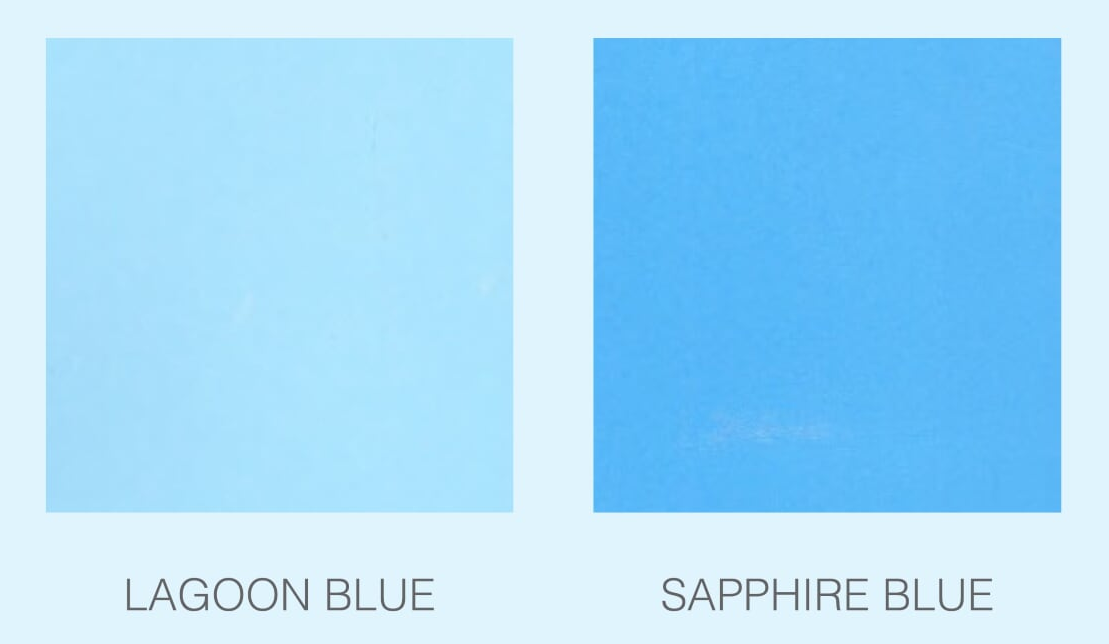 Prestige Pool Shell Colors
Choose from our Modern Range of Prestige Colors at a nominal additional cost..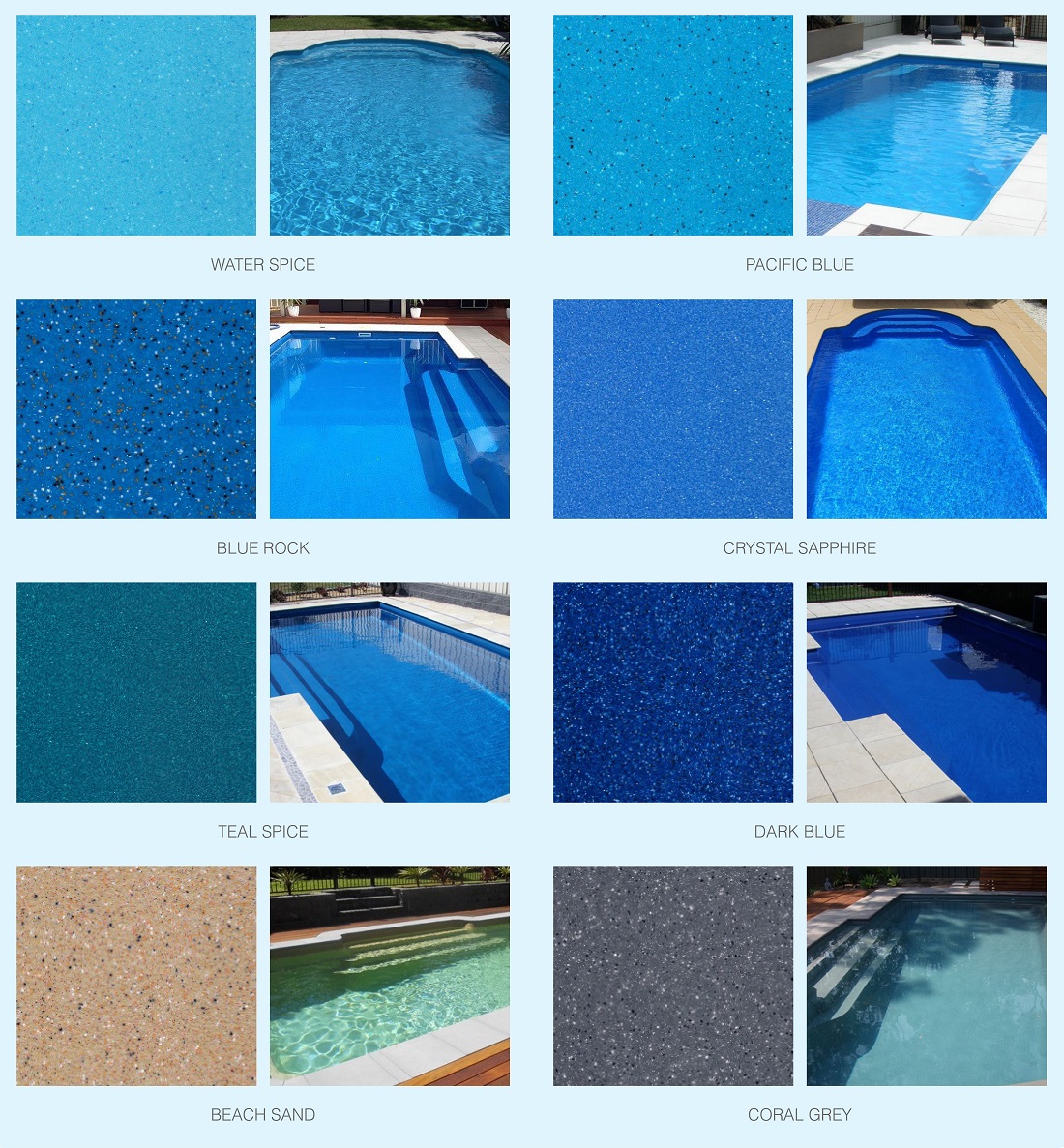 Premium Pool Shell Colors
Our Premium Pool Shell comes with 5 choices of Shimmer colors..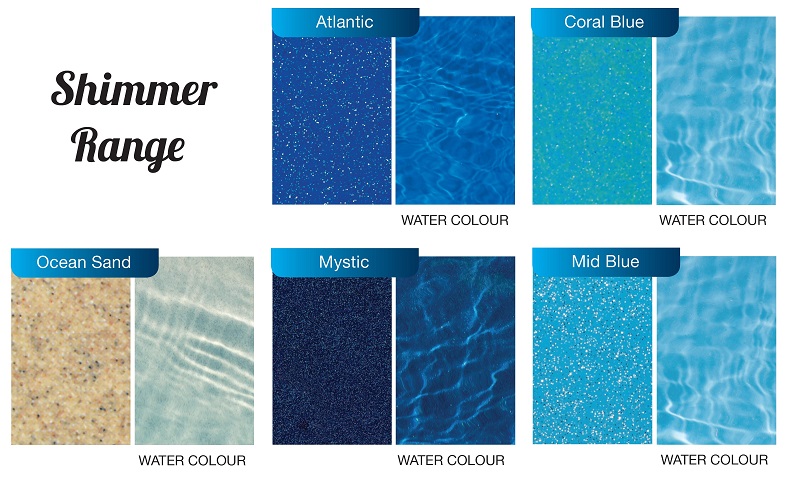 MarbleTech™ ECO-PURE™ 
Pool Shell Colors
MarbleTech™ Eco-Pure is a revolutionary new gelcoat which helps prevent algae growth on the surface, can reduce up to 99% of common bacteria* and is UV, chlorine and fade resistant. This antimicrobial MarbleTech™ gelcoat system provides protection for the lifespan of your pool.  Choose from our Biggest Range of Exclusive Colors at a nominal additional cost..
*In conjunction with normal sanitisation.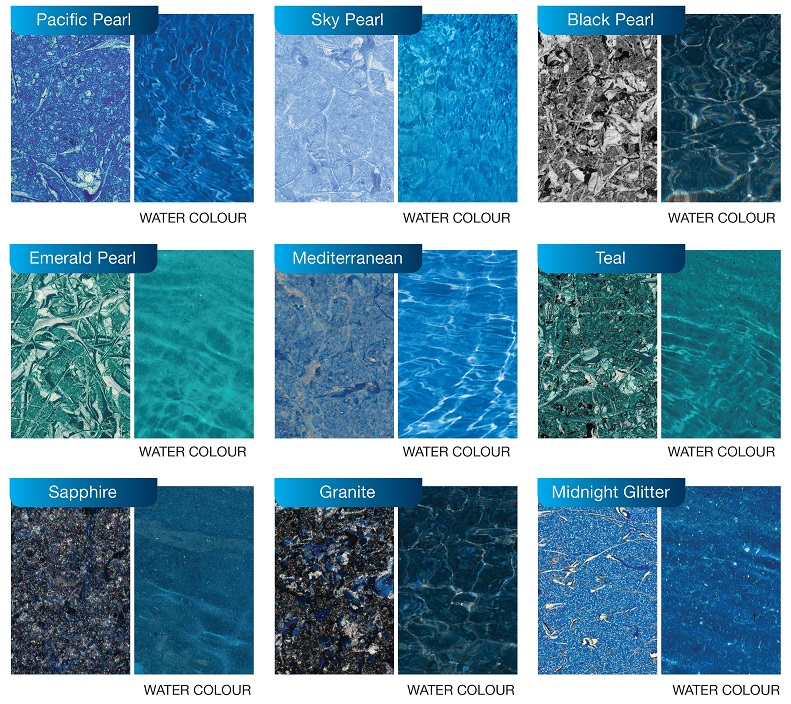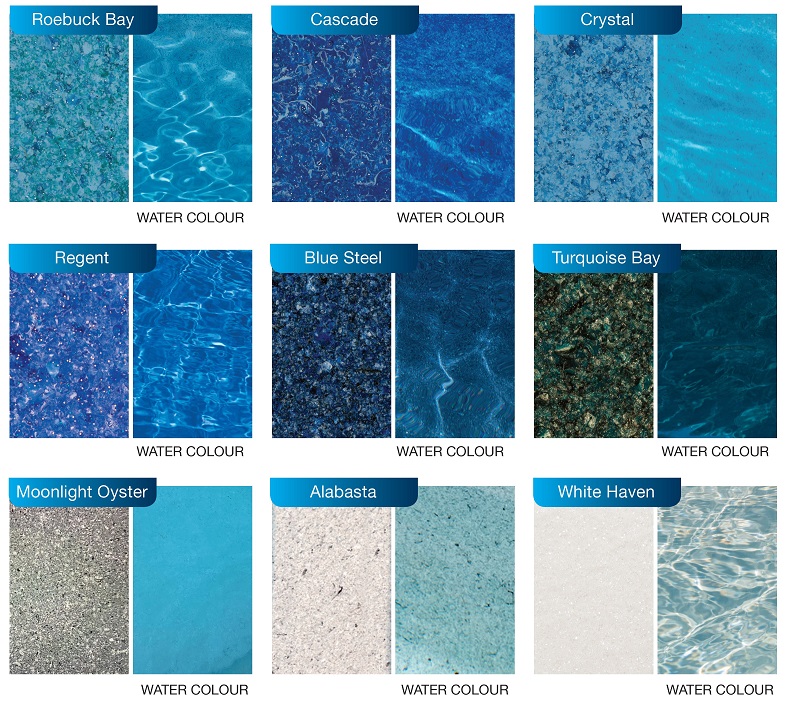 Why Fibre Glass Pool Shell?
Fibreglass is the perfect material for swimming pools, because it is hard-wearing and virtually maintenance free. It features flexibility and can be installed quickly.
Over past three decades, fiberglass pools have transformed from the typical bathtub like structures to the elegant swimming pool designs and aesthetic features that are now as much works of art as the pool.
Installation Time
Fibreglass pools are built at the dedicated manufacturing facility and delivered to customers in ready to install form, therefore, allowing one of the fastest installation time for a swimming pool. This ensures that a customer doesn't need to manage tradies at his backyard for months, thus lowering instances of stress.
Durability
The pool shell is about 7-9mm thick. The high tensile strength with no "fillers" added to the resin allows for greater flexibility and strength to accommodate normal ground movement.
Low Maintenance
The Gelcoat surface of the fibreglass pool is non-porous and non-abrasive therefore resistant to algae and stains. That means significantly low maintenance and chemical costs.
Salt Systems Compatibility
Salt chlorinators have proven to be a low maintenance, high water quality option for pool owners. fibreglass pools are highly compatible with salt water systems with no adverse effect, meaning you can enjoy the low-maintenance benefits of salt with confidence that your pool is not compromised.
Aesthetic Value
With technology advancements, fibreglass pools now have a variety of colored finishes, tanning ledges, water features and beautiful lighting options.  This is one of the many reasons why fibreglass pools have gained exponential market share over the past decade.
A quick comparison of Fibre glass Pool shell with traditional Vinyl & Concrete Pools
| | | | |
| --- | --- | --- | --- |
| Desired Qualities of the Inground Pools | | | |
| Attractive and Elegant look | | | |
| | | | |
| | | | |
| | | | |
| Number of available features | | | |
| Factory controlled quality and associated guarantee | | | |
| | | | |
| Compatibility with salt water systems | | | |
| | | | |
| | | | |
| Low Lifetime cost of ownership | | | |
| | | | |